Dear Dionic games,
Thanks for letting people test your new game. As requested, here is my feedback/bugreport:
-You can build on roads, blocking traffic and creating a bottleneck.
-The game asks you to build an airProcessor. In game it's called an Atmosphereprocessor
-If you build the habitat too close to the road, food will never be delivered. Oxygen will. But no new people can join. Other buildings also have this problem like concrete factory. Nothing will get delivered if they have a short road to the main road. Vehicles just disappear.
-You can place buildings into each other in some cases.
-If you place a building at the very end of a road, it will produce but nothing gets delivered.
-If you place a circle road, nothing gets delivered to the other side of the road. (screenshot)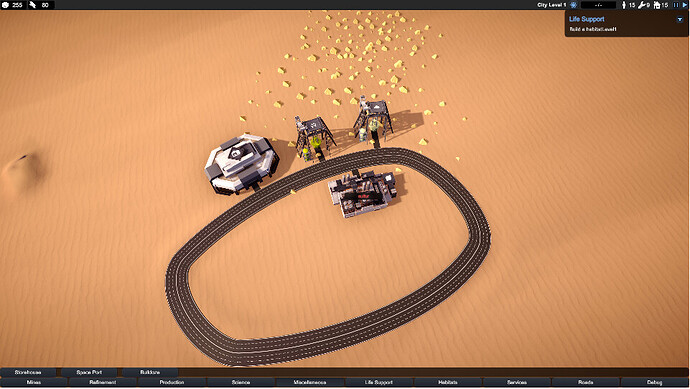 -The build-bar is placed such that you will accidentally scroll a lot.
-If you connect default roads to 3 lane roads they can get bugged placements and graphical artifacts.
-Vehicle AI is far from optimized although I think that will get better as the game progresses.
I am however impressed in that the Alpha already has nice graphics in-game and the basic systems are up. I will be updating this post when I find new bugs.
Thanks for letting me test this.