Hello everyone!
First, important note: We have moved the release date from Sept 19th to Friday, Sept 22nd.
We're finishing up the last few tasks, and these couple extra days really help with getting it done properly and making sure no last minute bugs sneak in.
Main New Features
Let's have a look at the main new features this update.
New Map
This has been by far the most asked-for single feature in our community - and now we deliver! The new map is gonna feature some mountains, some flat areas, beautiful shapes and enough space. And we're planning at least another map for the 1.1 update. (You can still play the old one, too).
Distribution And Collection Center
The most powerful logistics feature to come to InfraSpace in a while. with Collection and Distribution Centers you can store resources and guide traffic the way you want to.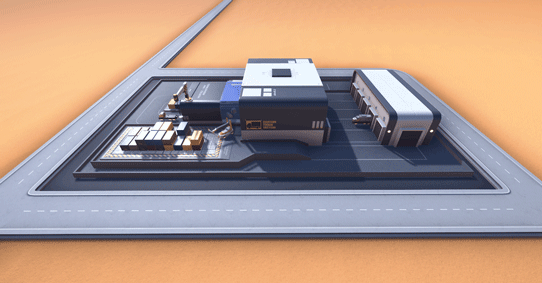 Tutorials & Encyclopedia
Very important for the 1.0 release since a lot of new players are going to get into InfraSpace for the first time. But even for veteran InfraSpace players the encyclopedia is worth a look! There are lots of entries about how to optimize traffic to get the best performance out of your logistics network.
Achievements
Another community wish now realised. Gotta get them all

New Trailer in the Making
For the most part we've spent our time fixing bugs and polishing the last rough edges, but it's also time to update our store page. The last trailer is almost 2 years old by now!
We're going to reveal the full trailer next week, but here are some scenes:
Special thanks to community members snek and oMqngo for helping out with creating some nice looking maps for the trailer!
That's it for this Friday Dev News, I hope you're excited for release. See you next Friday!
Happy playing!