Hello everyone and Happy Holidays!
And to everyone who got InfraSpace for Christmas: Welcome, we hope you've been enjoying it so far!
We've been posting weekly news about our progress for most of InfraSpace's development time and during the holidays, we're taking it a little slower. My 2 colleagues are out on holiday and I am stopping by the forums, Steamcommunity, Discord, and the subreddit from time to time to see if anyone has any game breaking issues that need to be fixed.
Otherwise, I'm doing some long term planning for InfraSpace's development in 2022 and I'm also working on some of the fun tasks for me, like performance improvement.
Earlier this week I had a test setup to optimize factory simulation using a more data oriented design and managed to get an almost exactly 10x performance improvement! It's a nice achievement and the extra performance will be helpful, but before you get too hyped, remember that other parts of the game can't be optimized as much and this concerns just CPU performance, not graphics performance - that's a topic for another day


I also haven't released it yet as my holiday programming is more about experiments and tests for now.
I wish everyone Merry Christmas, Happy Holidays, or just a good time for the end of the year.
And, as always, happy playing!
---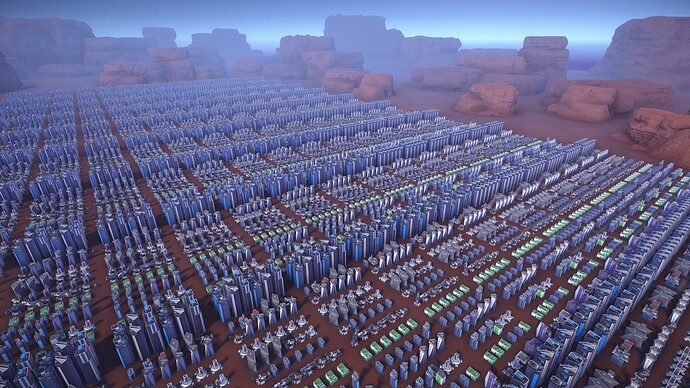 With my performance test setup I can quickly generate test cities of any size - cool stuff!