Hello everyone!
This week we spent most of our time trying to upgrade our planet environment. We're not done yet, so I made something else for you to enjoy in the meantime: The prioritization panel!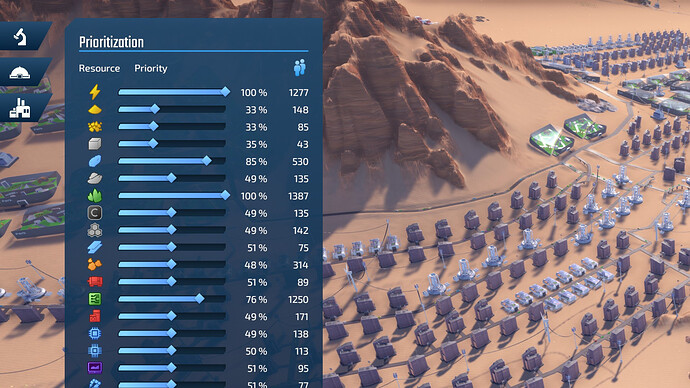 If you've been playtesting in the last couple of months, you may have found yourself in a downward spiral where not enough workers can't make enough resources to supply your workers, so people move out, so you don't have enough workers, …
Or maybe you needed a lot of a certain resource at once but you didn't have enough workers. Pressing the prioritization button on every single factory is too much work, so what to do? In the prioritization menu you can select which resources your workers should focus on. Select your prioritization with the slider and your workers will work at the factories where they are most needed.
You can also use the menu to see how many workers are living in each industry.
Changelog
Prioritization menu
fixed issue where cars would block intersections and cause gridlock - they do no longer enter intersections if they're not pretty sure there is enough space for them to leave the intersection on the other side
fixed bug where car would have invalid paths after reloading
fixed bug where car would hold up intersection forever
fixed bug where car wouldn't reroute properly after road network changed, leading to ghost cars hanging around
fixed bug where pathfinding would cache values for speed, but return the wrong paths upon requests
fixed bug where you couldn't move intersections properly
This week we also fixed a bunch of car issues and made gridlock a lot less likely.
Happy playing!