Hello everyone,
the 1.0 release is coming ever closer and we're busy fixing up loose ends here and there and fixing issues. We're going to focus on the most important things for 1.0 and are going to keep going for at least a 1.1 update after that.
Available Maps
I saw players getting really curious about which maps are going to be available with the new map selection, so here you go:
The randomly generated world you are used to now
A completely new map with some great looking mountains and more verticality
If we have time a third map, that is more difficult to play on, with more mountains.
Some people said they'd like to have some of the very old maps back. Currently there is no plan to bring them back directly, but rather fill the void with new, hopefully better maps. But we'll see after 1.0 what should be highest prio.
Post Processing
Color grading is easily overlooked when talking about a game's graphics, but it makes a big difference. I won't go into detail on all the iterations the artists went through this week, but here is the final look of the new map: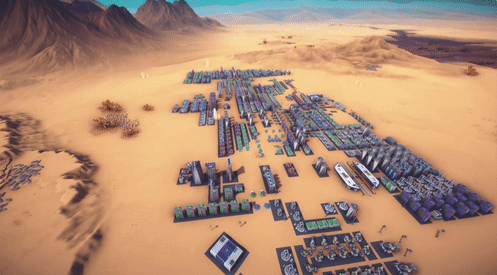 Bugfixing
Other than that the programming side has been busy fixing bugs and issues here and there. And it will stay like that with the small exception of finishing the distribution and collection centers for better traffic control.
Most recently, we're fixing an issue where sand would clip through the road after loading a save.
I hope you're looking forward to 1.0 and we'll see you on release day!
Happy playing!