Hello everyone!
I have been writing Friday News Post for more than 140 weeks now and today is probably the most special one of all: INFRASPACE HAS FINALLY REACHED ITS FULL RELEASE!
Thank you
I want to especially thank two groups of people for making this possible:
First, there is the Dionic Software team who has worked tirelessly with me to try to make this game as good as possible: Thanks Andreas, Lasse, Adriana and Sepehr!
Second, there is the community that has been with us throughout the last 2 years of Early Access and before. Thanks for all of your feedback, your bug reports, and also the support and encouragement! Special thanks also to the community translators who have worked hard to translate InfraSpace into so many languages.
The Long Road to 1.0
InfraSpace started in 2020 as an attempt to marry city builders and production line games. Many city builders have a great building and simulation experience, but don't focus so much on the production chains and logistics and we wanted to change that.
This is one fo the first screenshots of InfraSpace. Oh how far it has come!
By the time we reached Early Access, it looked like this:
The Early Access launch was a great success for us with lots of new players and lots of new feedback. Every 2-3 months we released an update with a big new feature, like the trains:
Or many traffic control settings like the traffic lights:
Soon after we added the origin story with the stranded space ship Antares and an intro cinematic:
Later we added more logistics systems like pipes and cargo lifts:
Or the giant laser from your space ship to clear your map from rocks and plants: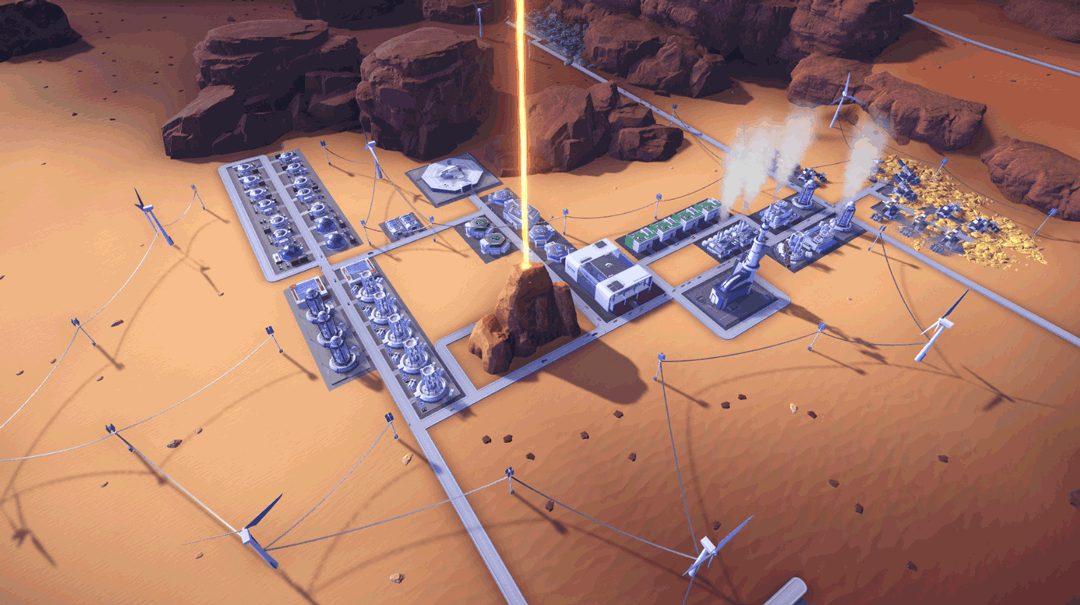 One time we failed! We tried to add a large procedurally generated map and it didn't turn out so well. The development took long and in the end, it was too flat and boring. Our community gave us their feedback and we listened, so now we have a great handcrafted map!
And finally, we also added terraforming, the huge end-game project:
There are so many more improvements and changes to mention here, like the balancing update with so many new industries or the countless bugfixes and performance improvements. It's been a long journey and I'm grateful for everyone's support that allowed us to pull all of this off.
Oh, and we have just added Mac support!
Final Words
I hope you'll have a lot of fun with the Full Release Version, whether you're a new player trying InfraSpace for the first time or an old fan curious to check out the new map and distribution centers.
As always, let us know about your experience in the forums and the discussions. We read everything and will be around to hotfix any serious issues if you should have them or note down feedback for the next updates.
Happy playing!
Daniel