Hello everyone!
This week we're bringing you a large set of new buildings and technologies to upgrade your city. They are not strictly necessary to complete the game, but make the job significantly easier:
For example, the self cleaning solar panels free up some of your workforce to take on other jobs instead of taking care of the solar power plant.
Check out the changelog for details on every new upgrade:
Upgrades
Recycling Center: Re-use some of your industrial waste and use fewer resources
Soil Enrichment Facility: Prepare the soil in your farms to get much larger harvests
Improved Wind Turbine Blades: Put wind turbines closer to each other
Self Cleaning Solar Panels: Reduce the workforce on your solar plants
Industrial Robots: Replace some of your workforce by robots
High Tech Tools: Increase productivity of your factories
Fast Neutron Reactor: An upgraded version of the nuclear reactor, supplies even more power
Small + Large Mines: The game starts out with small mines, but you can unlock larger mines to extract more resources
Oxygen + Carbon Processors: Choose which particles you want to filter from the atmosphere
Other New Things
Home Appliances: Tech tree reworked. Citizens now require home appliances before requesting computers and parks.
While building, the game displays the access road that is going to be placed
On mountains, buildings are no longer stuck inside the terrain. Instead they tilt according to the terrain below
Highlighting buildings that are about to be moved
New music track, more exciting style
New models for concrete factory, steel mill, and iridium alloy factory
Balancing, other changes
increased power pole and power substation supply radius
increased production speed for meat lab
habitats 3-6 don't hold as many people anymore
wind turbines need fewer workers
music tracks randomized better
Bugfixes
fixed a bug where buildings couldn't be placed after loading game
fixed a bug where the nuclear power plant would keep producing power after uranium ran out
---
For now, most of the new buildings just have some temporary graphics, but let me assure you they work just as well!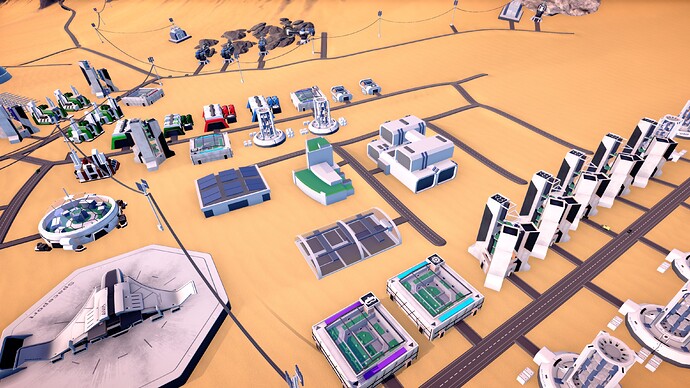 We got a full changelog this week, so I hope you enjoy the new additions!
As always, if you find any bugs, let me know.